Get 1500+ Guaranteed Clicks - CLICK HERE
100% Free SEO Website Analyzer Software!
(download at the bottom after reading this user manual)
This desktop tool will allow you to analyze any website to uncover technical and content related improvements to your website design.
The purpose of this tool is to uncover the various on-page elements of your website that directly affect your SEO rankings, and suggestion recommendations for improving or fixing these elements.
A majority of these fixes can be accomplished with free plugins or open source software. Where available, the tool will provide additional information, including direct links to the remote files that require your attention.
The software will report findings in two ways:
1. An auto generated PDF with summary information of website issues located.
2. An auto-generated CSV spreadsheet of affected or trouble URLs
You can use this software to improve your current site rankings, thus increasing traffic dramatically, and also perform analysis (and repairs) on other websites as a paid service.
Requirements
SEO Dragon requires:
Windows 7 or later
.NET Framework 4.5
SEO Dragon WILL NOT run on iOS.
You can run SEO Dragon on a Mac either as a dual boot, or with a Windows Emulator that is .Net 4.5 compatible.
Custom Settings
Before using this software, it is recommended that you first set up your custom settings.
This application allows you to set your custom branding on the header of your reports. It will also save a configuration file in the %APP DATA% folder of your Windows User account.
Go to TOOLS > CUSTOM SETTINGS: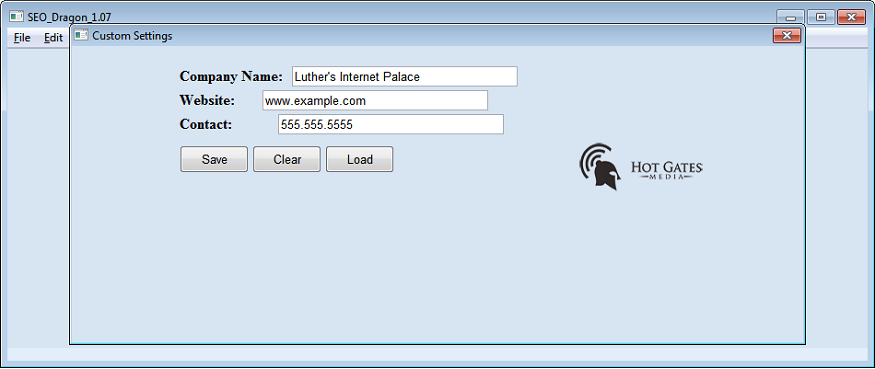 Enter your information here to have your custom info appear on the report:
• Company Name
• Website URL
• Contact Info

Press SAVE to store any changes to the custom settings page.

Press CLEAR to delete all custom settings. This will remove your name from reports!
Press LOAD to load in any custom settings saved in the settings.ini file.
Interface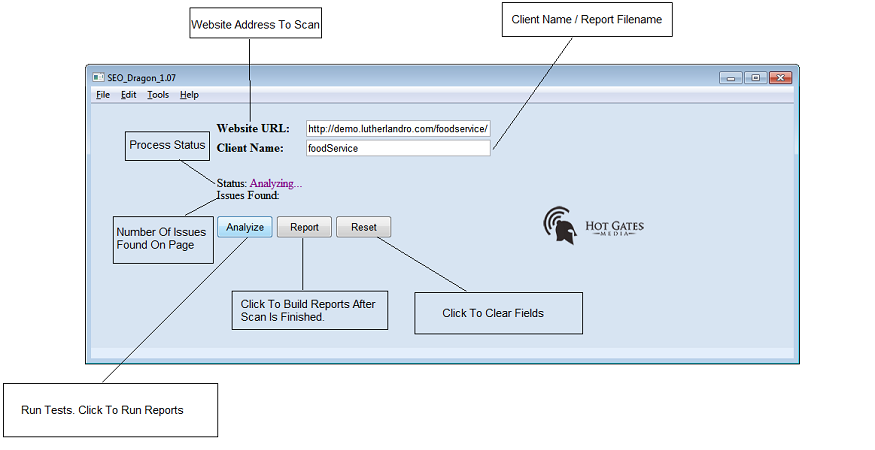 Website Address To Scan
Client Name / Report Filename
Run Tests. Click To Run Reports
Click To Build Reports After Scan Is Finished.
Click To Clear Fields
Number Of Issues Found On Page
Process Status
Analyzing Websites
Performing analysis is easy:
STEP 1: Simply enter a URL in the URL FIELD.
EXAMPLE: www.yourdomain.com
EXAMPLE: http://www.yourdomain.com
STEP 2: Enter a tag or client name. The name you put here will be the filename for the reports.
USER CAUTION: DO NOT enter any special characters in the Client Name field. Alphanumeric ONLY.
STEP 3: Press ANALYZE to begin the tests!
The software will run the tests and usually complete in less than 30 seconds.
The reporting status will indicate the current step, and then prompt you when it is ready to generate the reports.
STEP 4: Once the status reads REPORT READY, click the REPORT button to generate the PDF report, and the CSV spreadsheet.
These files are saved to your desktop in a folder called "SEO_Dragon_Output" and are named by the client name or tag you choose in STEP 2.
When you are ready to begin a new analysis, press RESET.

Troubleshooting
Sometimes things go wrong, or your computer has an incompatibility with the software. Fortunately, there are steps you can take to fix the common issues.
1. Update the .NET Framework to version 4.5:
http://www.microsoft.com/en-us/download/details.aspx?id=30653
2. Add an exception to the firewall to allow the program to access the internet.
Windows 8: http://www.wikihow.com/Add-Exceptions-to-Windows-8-Firewall
Windows 7: http://windows.microsoft.com/en-us/windows7/allow-a-program-to-communicate- through-windows-firewall
Windows XP is not supported.
3. Add an exception to your anti-virus software.
Please consult the documentation for your specific anti-virus for adding an exception to the software's .exe file.
4. Update your computer's latest version of Java:
http://java.com/en/download/index.jsp
5. Refresh Support Files
Go into your /user/appdata/roaming folder (type %appdata% in Windows Explorer address bar)
Locate and delete a folder called "ubot" or "SEO Dragon"
Note: doing this will remove your settings.ini file.